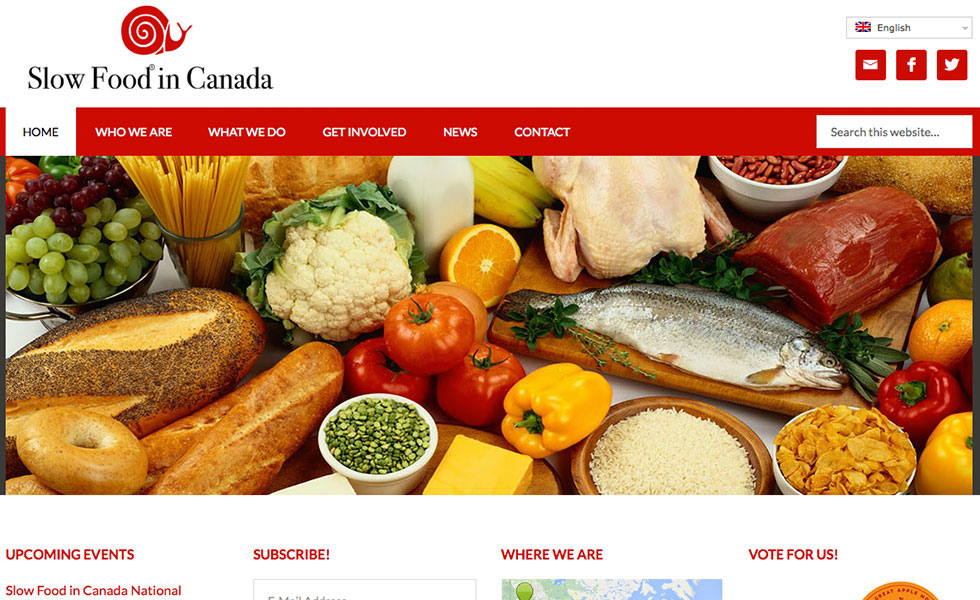 Slow Food Canada

Genesis Customization

Interactive Map

WPML

MultiSite
Just because we are highly skilled at PSD to Genesis and custom WordPress websites does not mean we reject work that includes customisation of an already exiting Genesis theme…. especially not when the client is referred from another great client, Valerie from acanadiafoodie.com! In this project we did not only venture out of the PSD to Genesis area to do Genesis customisations but we also did work on some other big areas.
slowfood.ca needed a new website that not only was up to date with the current standard such as HTML5 and mobile responsive but they also wanted WPML, MultiSite and an interactive map. Needless to say we took the project on and delivered meeting all their expectations.
We altered the homepage to split up the widgets as per the clients request. We also changed the header so we could use the existing logo's (both English and French)….but more on that later. As well as setting up gravity forms and styling it, we also made small adjustments to the slider area. And it goes without saying that we made sure the alterations looked good on mobile devices!
WPML
Slow Food Canada's old website wasn't set up for multi language, WPML, which was a shame as the website admin speaks fluent French and English. So to take advantage of the admin's language skills we installed WPML and set it up. Theme and plugins including event calendar and interactive map was translated, and even drop down choices in the Gravity Form are translated.
To top it off we coded it so the logo changes from English to French. This gives any French visitor a complete experience of a fully functional website.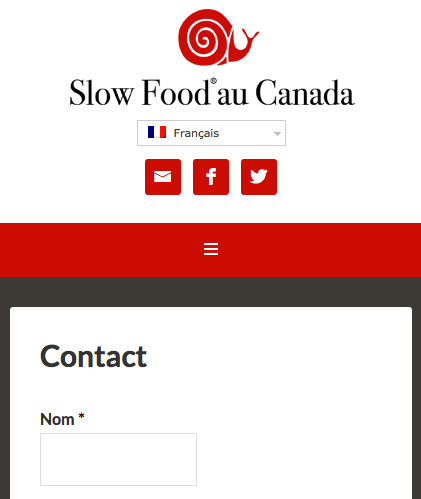 WordPress MultiSite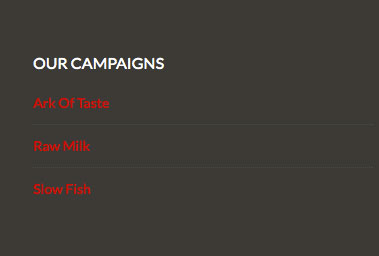 slowfood.ca is big organisation with campaigns like Ark Of Taste, Slow Fish and Raw Milk. The client wanted to be able to split up the site into these subsites and what better way to do this than by using the powerful but easy to maintain WP MultiSite. slowfood.ca can now have contributors for the subsites without granting them access to the main site which limits future complications and errors. We could have created individual sites but that means there would have been alot more maintenance. Here all the subsites use the same theme and plugins. Talk about synergies
Interactive Map
slowfood.ca does not only have campaigns but also branches spread across Canada. The client wanted an interactive map where the visitor could see the closest slowfood branch using geo location. When a someone visits the page they will be shown which slowfood branches are closest to their current location on the map and in list form
We made some alterations to an already existing plugin and was therefore able to deliver a highly intuitive interactive map within the client's budget.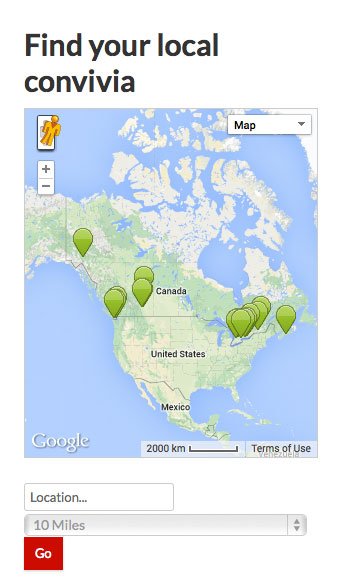 What Slow Food Canada Had To Say
"It was a real pleasure working with Philip and Matthew. PoundPig did an excellent job with our website – not only are they good, but they're fast and reliable. I really felt like I could count on them to resolve any issues or to find a creative way to meet our needs and special requests. It feels amazing to work with professionnals who are devoted to offering their clients such quality and expertise. Thank you!"

– Caroline Cloutier
slowfood.ca